Finally.. A Bed That Cats LOVE
Cats are sensitive creatures and are susceptible to experiencing stress or anxiety at least once in their lives. The Nymock™ Calming Bed is the only cat bed scientifically proven to reduce your cat's stress and anxiety - saving you time, money, and headaches in the long run.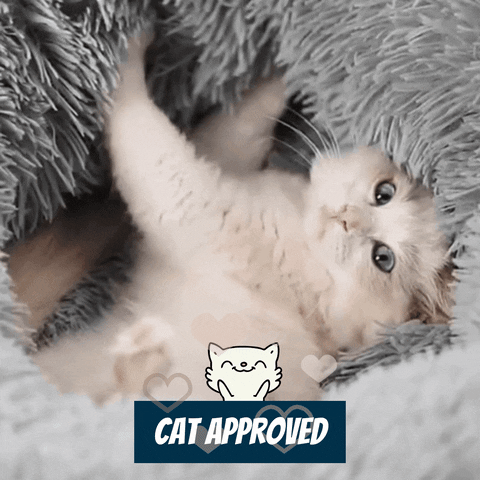 Why The Calming Bed?

Naturally Calming - Swathed in the highest quality faux-fur (vegan), this bed is designed to imitate the warmth and comfort of a mother's presence, allowing for a deeper and higher quality of rest - without the use of harsh medications.

 
Stimulates The Release of Endorphins - Our supportive raised rims create a sense of security and activates parts of the nervous system that stimulates purring & kneading - an act known to be physically and mentally therapeutic for cats and humans.

Protects Joints & Muscles - Unlike most other cat beds currently on the market, we stuff our beds to the MAX to alleviate any pains or discomforts your pet may face.


Non-Slip Bottom - This bed features an anti-slip rubber base that prevents sliding, so your pet won't accidentally slip when getting on or off of the bed.


Hypoallergenic - Based in a fleece-based polymer, the Nymock™ Biscuit Bed is naturally hypoallergenic and stain-resistant. A high-quality material purr-fect for every home.
Take Advantage of This Exclusive Deal
Right now we're offering a 40% discount on all orders and FREE SHIPPING WORLD WIDE, only while supplies last! This deal is not available anywhere else, so order now while we're back in stock!
Note: Please be aware of low quality knock offs on other sites. We cannot assist you with these orders, should problems arise.
Product FAQs
Size Guide
| | |
| --- | --- |
|  Diameter: | Suited For: |
| 50cm / 15.5" | Kittens to Small Sized Cats |
| 60cm / 23.5" | Medium to Large Sized Cats |
| 70cm / 27.5" | Large to Multiple Cats |
| 80cm / 31.5" | All Cats / Multiple Cats |
Shipping & Delivery FAQs
All orders will be processed within 1-3 business days and will require 7-10 days for shipping. However, depending on your location, you can expect to receive your item much sooner!
Not at all! All taxes and duties are included within the price of shipping - even when you qualify for FREE Shipping! However, if you do face any issues with duties or taxes (which most don't), please send us an email and we'll get that taken care of for you.